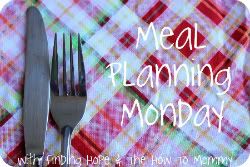 Joining in a Monday Meal Planning Monday link up. The original post can be found clicking the button above. I am using HowDoesSheDoIt.com to plan out my menu for the week. You can find tons of recipes, then add them to your meal planner and it automatically makes a shopping list for you of all the ingredients you will need for the week!
Monday
Four Cheese Baked Ziti
Tuesday
Cheesy Chicken and Veggie Mac
Wednesday
Chicken and Cheese Enchiladas
Thursday
Breakfast for Dinner: Pancakes & Sausage
Friday
Chicken, Broccoli, & Garlic White Pizza
I am keeping last weeks recipes about the same, because last week we got really busy and I didn't get a chance to make most of the things I had planned! So this week I'm already on track, also going to make banana nut bread today!